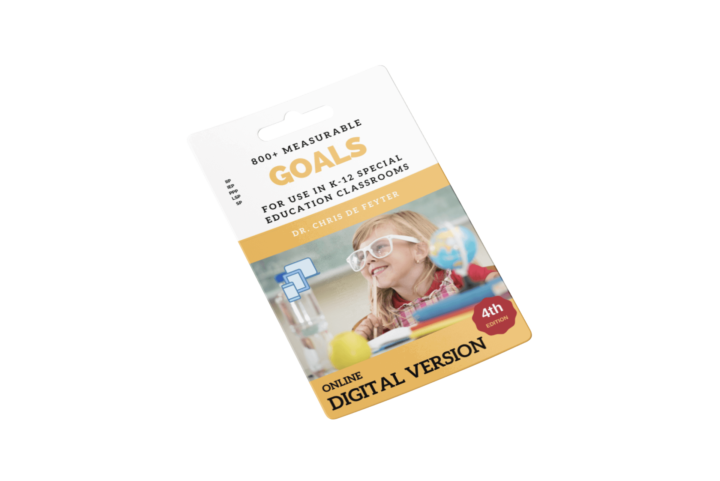 At least 80% of the time...
... we love writing SMART goals!
Do you need not one but numerous IEP goals for your students? Not quite sure where to start? Welcome to your solution! We understand how annoying it can be to create proper IEP goals that are not only measurable but also cover the needs of your students. That's why the SMART-R Goal Bank™ has more than 800 SMART Goals to guide your student to THRIVE! And with the many areas covered by our SMART goals? You can't go wrong. So why not work together and…

"800+ Measurable Goals and Objective" has existed in digital and paper form since 2009 and has now evolved into the new SMART-R Online Goal Bank™. Searching for the perfect goal for your student no longer requires browsing through lists of 100s of goals. Just enter a keyword, tag, topic, or category into the search bar, and multiple goals appear.
The Online Goal Bank is updated weekly with new goals, comments, tips and recommendations are added to help meet the ever changing needs of our students. These goals come from real-life situations, and are taking from collaboration sessions with (special education) teachers and other education professionals such as speech and language pathologists and educational psychologists.

Collaborate and provide realtime feedback to goals, add tips and recommendations, as well as start brief discussions about how to best implement goals. And when the needs of a student are of such that a custom goal is required, you can request a SMART-R Goal Revision™ to continue to better meet the needs of their student.
More than 900 Goals Alltogether!
SMART-R Online Goal Bank™
Many have asked, now it is here, access to all the goals from the book /ONLINE/ – and many more to come!!
Whether it is providing feedback on SMART-Goals and related instructional strategies, or coming up with a Smart-R Goal for a completely new scenario, I am there to help you. I have written and reviewed many 1000s of SMART and SMART-R goals during the last 20 years of my active practice in various education settings. Together we can simply your Smart-Goal Journey.

These goals, are well written for students in a self-contained setting. This is very helpful to me. I had very little adjustments to the goals.
Extensive collection of goals and objective that provide ideas for short and long term outcomes across the curriculum for students with IEPs.
This is a really good resource for writing IEP goals. I sometimes cut and paste one goal with another goal. Also great for just brainstorming while coming up with ideas for my students.
Extremely well put together guide on developing measurable IEP goals and objectives. As a Sp. Ed Supervisor, I shared this with my staff and they've found it very helpful.
for 1 year of Access (renews automatically unless you cancel)
I know you will love accessing the Goal Databank as it will only make your Smart-Goal Life SOOO much Simpler!
Did you purchase the 4th Edition of the book 800+ Measureable Goals for Use in K-12 Special Education Classrooms (or the 3rd edition of 800+ Measureable IEP Goals and Objectives) on TeachersPayTeachers.com? Now you can register to get complimentary early access to our SMART-R Online Goal Bank™. Your will need your TPT Order ID as well as your TPT User Name. Each request is manually reviewed and this may take up to 24 hours (Mon-Fri). If you have a question, please contact customer service prior to registering.